Another One Bites the Dust (try not to start singing)

The ongoing situation involving the Digital Currency Group, Genesis, and Grayscale has emerged as a THE topic in the cryptocurrency markets. If you were hoping FTX was the last domino to fall, you'd be wrong. Genesis Trading has filed for Chapter 11 bankruptcy, amidst ongoing tensions between the Winklevoss twins and Barry Silbert.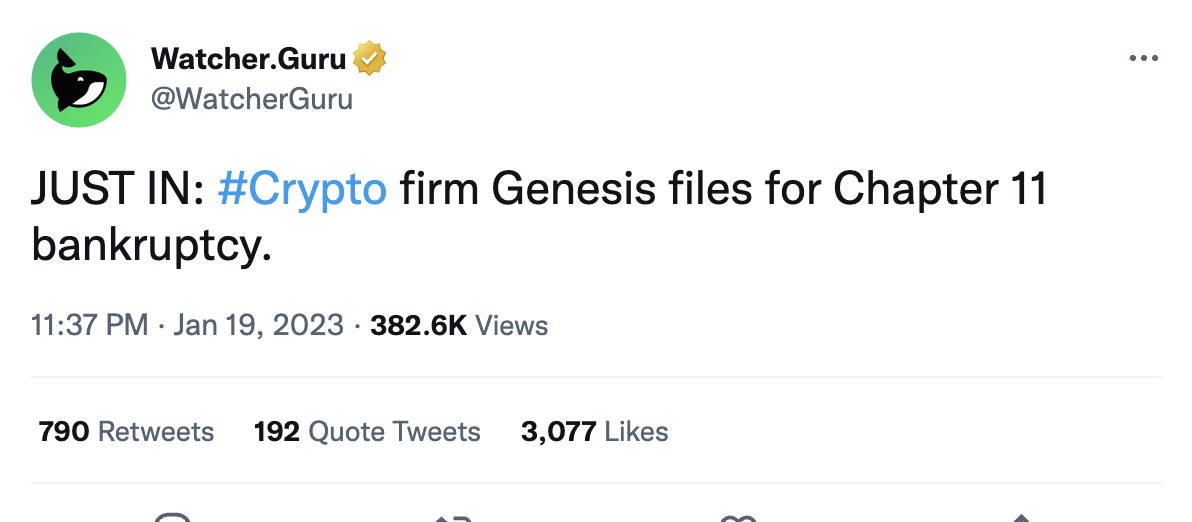 As this is a rapidly evolving situation that is likely to have a significant impact on markets in the coming weeks and months, it is crucial to stay informed on the latest developments. The following is the current understanding of the situation.


Here's a diagram of the connection between the major companies involved:
(Note that DCG owns 100% of Grayscale and Genesis.)
DCG:
Digital Currency Group (DCG), a US cryptocurrency venture capital and holding company founded in 2015 by Barry Silbert (CEO). As of the top of the market in 2021, DCG had $50 Billion AUM (Assets Under Management).
DCG has been one of the largest investors in the Cryptocurrency space with investments in Coinbase, Circle, Silvergate, Coindesk, Ripple, Kraken, Ledger, Lightning Network, and many more. To view their full portfolio go to:
https://dcg.co/portfolio/
The most important companies that DCG owns are their wholly owned subsidiaries (meaning the parent company DCG owns 100% of the common stock) which include Genesis and Grayscale among three others (CoinDesk, Foundry, and Luno).
Genesis:

Since the FTX Collapse in November, attention has swung to Genesis, a Centralized Cryptocurrency Prime Broker.

*A Prime Broker is a company that provides services to institutions (such as Hedge Funds). The main services offered are Custody of Assets, OTC Trading, and Extending Credit.

Genesis launched their OTC trading desk in 2013, and since has facilitated hundreds of billions in transactions. In Q3 of 2022, Genesis had $9.6 Billion in spot volume and $18.7 Billion in derivatives volume.



Grayscale:
Grayscale is a Digital Currency Asset Management company founded in 2013 by Barry Silbert. They are most known for the Grayscale Bitcoin Trust (GBTC) which was also launched in 2013 which has $10B in AUM.
Trusts are regulated investment vehicles that offer shares to investors. For many years, the only way institutions were able to invest in bitcoin, in a compliant manner to the SEC, was through buying shares of GBTC. Because this was the only way institutions could buy, for a while these shares always traded at a premium compared to the underlying bitcoin.
However in February of 2021, GBTC started trading at a discount and since has grown to a 45% discount (so essentially 1 GBTC bitcoin is equal to ~0.5 bitcoin).

GBTC isn't the only trust Grayscale has, but it is the biggest.

Current discounts on their 4 other largest trusts:


Ethereum Trust (ETHE) $3.8B AUM: 56% Discount
Ethereum Classic Trust (ETCG) $229M AUM: 75% Discount
Digital Large Cap Fund (GDLC) $164M AUM: 58% Discount
Litecoin Trust (LTCN) $114M AUM: 58.7% Discount
Why are Grayscale Discounts so large?

Most of the damage to the Grayscale trust premiums began when Terra Luna Collapsed in May of 2022. Which caused billions of dollars to be liquidated from the market in just a few days.


Terra Luna Classic Chart
When this happened, not only did retail get hit hard, but Institutions also suffered from this collapse. One of the largest one's affected was Three Arrows Capital (3AC). 3AC tried to recover their losses after the fall of Terra Luna, however they were unable to do so and a month later, 3AC declared bankruptcy.
What happened was 3AC had borrowed billions from creditors and was unable to pay back their debt. The loans came from Voyager, Blockchain.com, and Genesis (where they borrowed $2.3B), and an estimated $1.2B they still have not recovered.
To cover the losses from 3AC and others, DGC (Genesis Parent Company) had to take a $1.1B loss on the behalf of Genesis (in a promissory note).
It was later discovered 3AC and Genesis were both involved in the GBTC premium.
In short, what happened is 3AC borrowed bitcoin from Genesis, which locked the bitcoin into GBTC, for 3AC to then issue GBTC, where there was a large premium.
Credit: DataFinnovation
https://datafinnovation.medium.com/3ac-dcg-amazing-coincidences-c14eec941c06
3AC then used these GBTC shares as collateral for a loan from Genesis in US Dollars.
3AC then used this capital to buy cryptocurrencies and NFT's. Their purchases included Terra Luna,
As 3AC was collapsing because as the discount grew, their loan looked worse and worse, they attempted to pump back the GBTC premium until they eventually became insolvent.
As the discount widened throughout 2022, DCG also started trying to pump up the price of GBTC.
So how did the 3AC and Terra Luna collapse hit Genesis?
At first, while other cryptocurrency lenders went down in flames, Genesis appeared to be holding their own.
Until… FTX collapsed and the Crypto market was shaken once again.
When FTX collapsed many institutions either had funds locked on the exchange, invested in the exchange, or collateral exposure.
On the day of the Chapter 11 filing, Genesis tweeted the following:
However, Genesis over the next week "changed" their exposure.
Genesis went from, no real impact from exposure, to a very small amount of exposure, to a lot of exposure.
Following this collapse, many institutions rushed to get back their loans made to Cryptocurrency businesses. Including Gemini Earn.
Genesis is Gemini Earn's lending partner, so this was even more problematic for Genesis.
Genesis had given Gemini Earn short term loans, but others long term loans. Meaning there was a mismatch in the timing of payback on these loans. This was a big hit to the Genesis business.
The mismatch in timing on the loans forced Genesis to seek $1 Billion in emergency funding, which never happened.
They approached Binance and others to buy off their loans, but like FTX no company wanted to buy the debt Genesis accumulated.
After these issues and not receiving financing, Genesis continued to claim that they were in good financial shape.
DGC, the parent company owes over $2 Billion with $1.6B to Genesis ($1.1B from the promissory note).
The loans that DCG gave to Genesis have to be paid back. The major deadlines for their loans to Genesis are over $500M due in May, and $1.1B due in June. If DCG defaults on these loans and does not pay, this would put a $1.6B hole in the balance sheet of Genesis.
If Genesis was its own entity, this hole would not be recovered at all, but because DCG is the parent company, Genesis creditors could go after the $1.1B promissory note from DCG.
Therefore, DCG would have to pay back all the money it owes to Genesis.
Because of the current debt at DCG, and the increase in interest rates, raising the money from debt would be difficult.
How The Winklevoss Twins Are Involved
On December 28th, Gemini (owned by the Winklevoss twins) were sued by investors because they halted withdrawals on the Gemini Earn Platform.
Gemini Earn:
A lending service where users opted in to letting Gemini lend out their crypto holdings for interest payments.
Unlike FTX, on Gemini Earn, customers were opting into this service. Therefore, the question here isn't the co-mingling of funds behind customers' backs.
However, the problem is that Gemini trusted Genesis to repay loans that they are now unable to pay back in time.
This is why Genesis halted withdrawals in late November. Gemini Earn customers are now unable to withdraw their funds.
Genesis owes Gemini $900 million, which was revealed in this tweet of a letter from Cameron Winklevoss to Barry Silbert (Founder and CEO of DCG, Genesis, and Grayscale) on January 2nd:
Tweet:https://twitter.com/cameron/status/1609913051427524608
The fact that Genesis is unable to repay the loan, is their fault and Cameron might be right for blaming them. Cameron is saying that Barry Silbert has been stalling and not meeting with Gemini to figure out how to repay the loans they made.
He had given Genesis/DCG until January 8th to pay.
Up until this point, Genesis has still not paid back Gemini and on January 10th Cameron Winklevoss tweeted the following at Barry Silbert.
Tweet:https://twitter.com/cameron/status/1612806661508567042
In this letter, Cameron explains how Barry Silbert is continuing to do stall tactics and the Promissory Note that DCG gave Genesis did not help their liquidity at all. He claims the Promissory Note was simply to fill the hole on Genesis's balance sheet and since it was not all paid to Genesis immediately he indicates the present value is closer to $300M.
The letter ends with Cameron claiming that DCG has to remove Barry Silbert as CEO because he is unfit for the position. Citing the fact he made risky investments and is unable to work with creditors who he owes money too.
DCG did not wait long to respond to this letter that circulated Twitter from Cameron Winklevoss.
In this letter from Barry Silbert he blamed market conditions and the plethora of bad actors in the space for not paying back the loans he owes.
Read Barry Silbert's Letter Here: https://dcgupdate.com/
But then, Genesis went bankrupt
So what does this mean for Gemini Users?
https://twitter.com/cameron/status/1616298056097624064?s=46&t=nRSIqLIaVC2mcrJ_V_N2tQ
According to Cameron Winklevoss, if Barry and DCG do not do right by the creditors, he is going to sue Barry and DCG on behalf of the 340,000 creditors he currently has on Gemini Earn.
Bigger Issue
Promising high yield on investments through lending out others' money is a business model that succeeds in a bull run but not a bear market.
In this case, many Centralized Crypto Institutions distributed funds to each other and created highly leveraged positions. Therefore, when one went down, it led to a ripple effect that is still playing out in the market. The contagion runs deep.
What should you do?
DeFi is the future

DeFi offers a multitude of benefits for individuals looking for more transparency and control over their financial assets. By utilizing public blockchain technology, all financial transactions are recorded in a transparent and immutable manner, giving individuals full control and visibility over their funds.

In DeFi, when you hold the keys to your funds, you eliminate the risk of having your assets lent out to other institutions without your knowledge or consent. The only risk you are exposed to is the potential drop in asset prices. This is in contrast to keeping your funds in centralized institutions, where in addition to the risk of asset prices dropping, there is also the risk of the institution lending out your funds to other entities that may not be able to pay back the funds.


How Genesis is dealing with possible insolvency:
After all the denying of insolvency, Genesis declared Chapter 11 Bankruptcy on January 20.
This bankruptcy was not a shock for many, as we've seen the possibility in the public since the collapse of FTX.
According to the bankruptcy filing, there are more than 100,000 creditors and in the first day already has over $5 Billion in liabilities with estimates it could be $10+ Billion.
What does this mean for Cryptocurrency Markets?
So far since the Chapter 11 filing, the prices in the market have remained steady with bitcoin currently trading at $21,300 and Ethereum at $1,600. Both are up in the last 24 hours since the filing.
There are a few reasons that price may hold better than the crashes of 2022 (FTX, Celcuis, Voyager, 3AC) because the possibility has been known for months now.
1: What Market Prices Mean
Market prices are meant to be a reflection of the present and future value with all factors being taken into play.
Investors may have already adjusted their positions over the last few months to prepare for Genesis collapsing. In that case, we shouldn't expect much of a drop in price in the market.
2: Liquidity
We may also not see much of a drop because a good proportion of the investors who would be selling at this point, can't. They had their funds locked in Celcius, Voyager, Blockfi, FTX, and Gemini so they can't sell anything right now.
The people who are still around are more and more users of cold storage. These people tend to be long term holders and therefore when bad news hits, they don't rush to sell.
Now… prices could drop from this as well.
It's possible that DCG falling, since they owned many companies and projects, will shake up the market for a while.
However, to this point, prices in the market have not reflected that's the case.
How Does Velvet.Capital Help You Achieve Crypto Investment Success
Crypto investing can be hard but doesn't have to be! It is common for investors to enter or re-enter the market during the run-up phase, but by learning from the mistakes of others, you can avoid common pitfalls and make more informed investment decisions! Patience and discipline are key.
At
Velvet.Capital
, we believe in DeFi done right. We're passionate about the transformational nature of DeFi and want to help onboard the next billion users into crypto. We help people create diversified crypto products with additional yield — all without giving up custody of their assets!
It's also incredibly easy to employ dollar-cost-average strategies with Velvet.Capital. With our recent integrations with Transak, Magic Link, and Wallet Connect it is now easier than ever to start your crypto investing journey.
You can get exposure to all the best projects in just a few clicks. Position yourself to take advantage of the next bull run today!
Don't forget to follow us on
Twitter
,
LinkedIn
and join us on
Discord
&
Telegram
for more updates! We want to hear from you, don't be shy.
Until next time,
Cheers!